HOME
Sabbath Study
Bible Studies
A SunDay Worshiper
Watch Videos
3 Angels' Messages
Earth's Final Warning
Rome's Challenge
Weekly Cycle
Chart of Week
Ten Sabbath Facts
Your Questions
Letter from Rome
Historians on Sabbath
Sabbath Flyer
Beliefs
Slideshow
The Sanctuary
Man is not immortal
Ellen White - prophet
SDA Info
Natural Health
Ministry Directory
Search the Bible
Hymns
News of Final Events

Sabbath TV commercial
you can air. Get the details.

If we support the Ten Commandments, should we not include the Sabbath?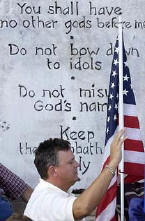 Hymns
Please see www.stepstolife.org to order their Hymn CD set with hymnals. There are over 100 hymns with piano accompaniment in this set. This is great for any church or small group to use in their worship service.
God Bless